About Masako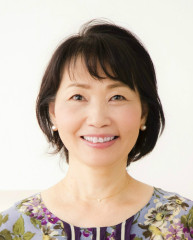 若山雅子
1970年に大阪万博のアメリカ館で初めてキルトの様なタペストリーを見て心奪われ
それからキルト雑誌などを購読して独学でキルトを始める。
1987年川崎にキルトショップ"クリブキルト"をオープン。
クリブ(crib)は英語でベビーベッドという意味で、初めて娘(Emi)に作ったキルトから名付けた。
30年以上にわたり、刺しゅうやクロシェ、パンチニードルなど様々な手法をキルトに取りいれた作品を提案。
10か国以上の国でショーに参加したり、講習会を行う。
今まで出版した本は現在複数の言語に翻訳され、またデザインしているオリジナルのファブリックライン
"アメリカンカントリー"は20年以上続いている。
Masako Wakayama
Masako Wakayama first discovered quilting in the American Pavilion of the 1970 Osaka EXPO.
Smitten by her discovery, Masako quickly learned to sew and subscribed to several quilting magazines
as she began the labor of love of teaching herself to quilt.
Masako opened Crib Quilt, her studio and storefront, in 1987 in Tokyo.
She named it Crib Quilt for the first quilt she made for her daughter Emi.
Over the past three decades, Masako has carefully honed her craft and is now a quilting expert
who also specializes in crochet, EPP, punch needle, applique, cross stitch, and embroidery.
She and Emi travel around the world teaching workshops and participating in exhibitions.
She has published 10 books in multiple translations and has been designing her fabric line
"American Country" with a Japanese fabric company, for more than two decades.